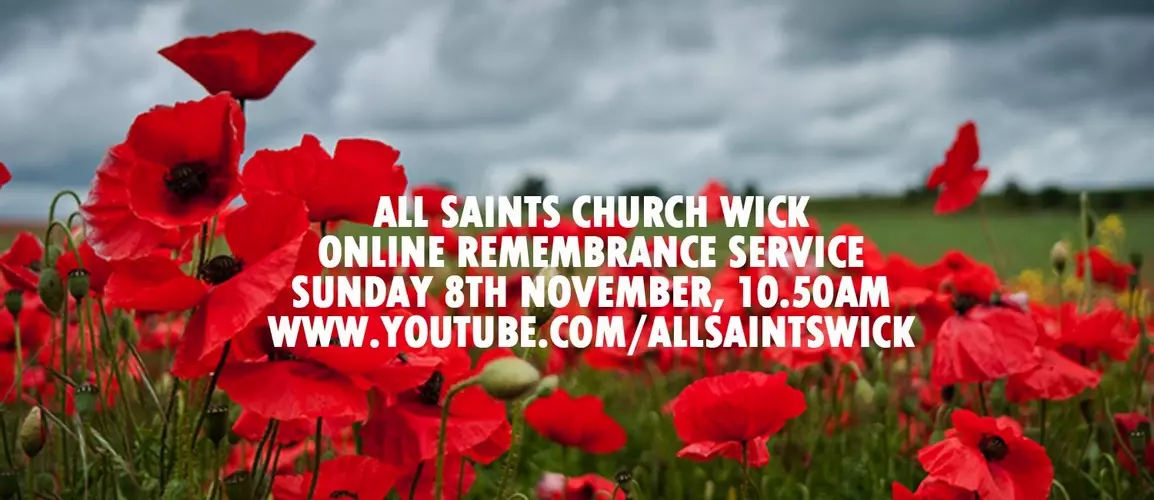 A Soldier's Letter
During the renovations to Wick Hall, a letter was found under the stage from a soldier to his mother, on the eve of him setting off to fight in WWI. The letter is dated 7th July 1916, and Edward 'Ted' Hutchison died less than one month later.
The letter will be read as part of our ONLINE Remembrance Service on Sunday 8th November at 10.50am
(filmed at the Wick War Memorial, in Wick Hall, Littlehampton)

In addition, the following research has been carried out by Ann Brown in partnership with Littlehampton Town Council, and with contributions from members of the Church and local community. All the images can be clicked on to open separately, some at a larger size. The work continues to try and track down some living relatives of 'Ted' Hutchison.
To get in contact, and find out more about the Church and what we're doing in lockdown, head to www.allsaintswick.org.uk/DispersedChurch
Edward Hutchison, 1896 - 1916
? Company No 27707
15 Batt Royal Fusiliers
The Danes
???
Dover
7.7.16

Dear Mother
Just a few lines hoping
It will find you all quite well
as it finds me at present, you
can tell harry I shall be out
the front before he is now for I
on the next draft along with
Frank Burchett but we are only
going out to the base has we
have got go out to make room
for the fresh recruits has there
is about two thousand coming
in when we go. We have got

all our cap badges blacked
and got all our over sea tackel
so we are all ready to start
we were inspected yesterday just
over a hundred of us with full
packs on I could not get
a transfer I don't know when
we shall go whether we shall
go this week or the beginning of
next but don't worry for
it won't be for long for I don't
think it will last much longer
I got the pad alright and thank
you very much for it I think
this is all I have to say this
time I remain your loving
son
Ted xxxx

Postcard of The Danes Training Camp Dover – a recreation ground.


Men who trained here would be preparing to go to the Western Front and would have travelled out through Dover.

Edward Hutchison was the youngest son of Herbert Hutchison (1857-1935) and Kate Charlotte (Pearce) (1863 -1943). He was born in 1896 in Halisham East Sussex

In 1901 he was living at Maghan Down, Hailsham, East Sussex with his father a farm bailiff, his mother, 5 sisters and three brothers.

In 1911 he was living in Squirrel Lane, Herstmonceux and his father was described as a Farm Labourer.

Five years later Edward enlisted into the Army at the age of 20. Conscription was fully introduced on 27th January 1916 for ages 15 to 65 years so it is likely that Edward enlisted under this. He would have undertaken basic training before being posted to France.

Edward enlisted in Hastings. No army records have survived. He joined the 9th Battalion of the Royal Fusiliers – 18th Division.

The letter to his mother was written on 7th July 1916 and sadly by August 4th 1916, just less than a month later Edward was reported missing during the Battle of Pozieres.

From Burwash Roll of Honour – published by Burwash Parish Council

Edward Hutchison
Private 27707 9th Battalion Royal Fusiliers killed in action 4th August during the capture of Ration Trench south of Thievpal . Age 20. Born Halisham. Enlisted Hastings. Son of Herbert and Kate Charlotte Hutchison, School Hill, Burwash.

He had no known grave and is commemorated on the Thievpal Memorial, Somme. Pier and Face 8 C 9 A and 16 A.

He is also commemorated on the War Memorial in All Saints Church, Herstmonceux.

There are a number of local newspaper reports listing him as missing and then fallen.

Ration Trench

The 9th Battalion of the Royal Fusiliers had been on active service in France and Belgium since 1st June 1915. It had participated in the Battle of Loos and entered the Battle of the Somme in its second day 2nd July 1916. Edward may have been part of a reinforcement draft.
The Unit sustained many losses in an attack on a position known as 'Ration Trench' and in a subsequent German counter attack with flamethrowers 5 Officers were killed , 7 wounded together with 281 other ranks killed, wounded or missing. Between 7th – 9th August the Battalion was withdrawn near Poziers.
Royal Fusiliers Battalion Diary WO95/857

The attack on part of the Poziers Ridge west of Poziers began at 11.15pm on the 3rd August 1916 with the 8th Royal Fusiliers of 36 Brigade charged forward behind an artillery barrage and captured the south west portion of a German trench 4th Avenue. At the same time 6th Kent (Buffs) with their left covered by a smoke screen took a strong point at the lower end in 4th Avenue. Bombers from both Battalions were then able to gain a foothold in Ration Trench where they captured 100 Germans. 36th Brigade continued in action on 4th August when at 9.15pm and in conjunction with an attack with the Australians they tried to complete the capture of Ration Trench. 7th Sussex and 9th Royal Fusiliers attacked it frontally while the 8th Royal Fusiliers bombed up from the left. Much of Ration Trench was cleared of the enemy but not as far as the junction of Western Trench which had been one of their objectives

From: WW1 London Memorial for Leslie Worrall 9th Royal Fusiliers died 4th August 1916

Royal Fusiliers Badge

Edward's father Herbert Hutchison

Edward's Mother, Kate Charlotte, from PJ Finch family tree

War Medals Awarded

War Pension paid to Edward's mother 1919
'At the going down of the sun, and in the morning, we will remember them.'